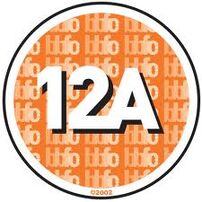 12A certificate (A means Adult/Advisory) is a certificate given by the BBFC that states that persons under 12 must be accompanied by a parent or adult guardian for the duration of the film. It replaced 12 for cinema in 2002 (during a Norwich trial, when the certificate was known as "PG-12"), and is not used for video. The BBFC does not recommend that persons under 12 see a 12A movie. The adult must also purchase the movie ticket for a 12A film when bringing kids under 12 in.
Since accompanied viewing cannot be enforced at the home, the 12 certificate is instead issued for video releases (e.g. VHS, DVD, Blu-Ray).
The Bourne Identity was the first film to be classified as a 12A.

British Board of Film Classification

(BBFC)







Community content is available under
CC-BY-SA
unless otherwise noted.