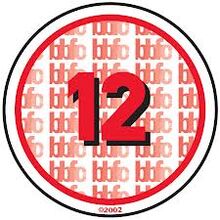 12 certificate is a rating given by the BBFC that determines that a particular form of media is suitable only for teens aged 12 or over. Nobody younger than 12 can rent or buy a 12-rated video, DVD and Blu-ray This rating has not applied on the cinema since 2002; that role is now used for the 12A certificate.
Note: Even if a bit amount of strong language is used, current BBFC guidelines do not allow the word "c**ksucker" to pass at "12"; any use within the work can result in a "15".
The Irish Film Classification Office also issues 12 certificates for video releases. But they issue 12A in cinemas, just like in the United Kingdom.

British Board of Film Classification

(BBFC)






Community content is available under
CC-BY-SA
unless otherwise noted.