Films classified 12A and video works classified 12 contain material that is not generally suitable for children aged under 12. No one younger than 12 may see a 12A film in a cinema unless accompanied by an adult. Adults planning to take a child under 12 to view a 12A film should consider whether the film is suitable for that child. To help them decide, we recommend that they check the Ratings Info for that film in advance. No one younger than 12 may rent or buy a 12 rated video work.
–BBFC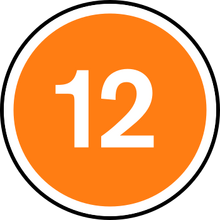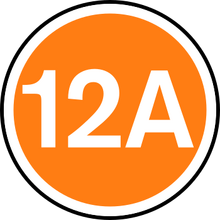 12 is a rating given by the BBFC that determines that a particular form of media is suitable only for persons aged 12 or older. Nobody younger than 12 can rent or buy a 12-rated video.
History
[
]
Despite the introduction of new BBFC classifications in 1982, overhauling the previous classification system, the BBFC 12-classification did not exist up until 1989, when the classification was first introduced (before this, between 1982 and 1989, the only available BBFC classifications were the U, PG, 15, 18 and R18 classifications - as well as the Uc classification which was introduced in 1985 solely for non-theatrical works, but was later dropped in 2009).
The 12 classification was introduced as a way to bridge the large gap left between the PG and 15 classifications in the UK. Similarly to how the MPA would introduce their PG-13 rating in the US in 1984, in order to bridge the gap left between their PG and R ratings.
Batman would go on to become the first film to be classified 12, being classified on August 22nd 1989.
However despite the introduction of the 12 classification on film (for works released in a theatrical context) in 1989, it would take another five years (until 1994), before the 12 classification would be introduced for non-theatrical works. (Meaning that, between 1989 and 1994, distributors of works which had received a 12 classification on film would either have to chose between cutting their work for a PG classification, or accepting a 15 classification, when their work was submitted for video classification).
The 12 rating has not applied to cinema works since 2002. Instead (post-2002), the 12A classification is used for works released in cinemas, while the 12 classification is maintained for non-theatrical works. A film classified 12A, is classified as being suitable only for persons aged 12 or over, no one younger than 12 can view a 12A-rated film in a cinema, unless accompanied by an adult aged 18 years or older. The Bourne Identity would go on to become the first film to be classified 12A, being classified on June 24, 2002.
The 12A / 12 classification is equivalent to the PG-13 rating used for movies in the United States (even though the PG-13 rating is for people aged 13 and older, rather than 12, and is unrestricted).
Some films rated R in the United States, have been classified 12A / 12 by the BBFC in the UK:
About Time, The King's Speech, Terminator 3: Rise of the Machines, Mank, Stolen, Irrational Man: due to the more lenient treatment of strong language by the BBFC
Nomadland due to a scene of nudity in a non-sexual context (breasts clearly visible)
Red Joan
Never Let Me Go as sexual scenes are treated more leniently by the BBFC
The subject matter of A Single Man and Vera Drake may be too mature for some despite the 12 certificate
Renoir contains infrequent strong language and artistic nudity
On the other hand, some films rated PG in the US are rated 12A / 12 in the UK, such as Tomorrowland and Here Comes the Boom.
The BBFC 12 rating was also used as an available classification for video games up until 2012, when PEGI ratings became legally binding.
List
[
]
As of July 29, 2021, there are over 15,000 12 rated titles, 4,000 of which are 12A rated titles in this film according to IMDb.
Content Guidelines
[
]
Dangerous behaviour
No promotion of potentially dangerous behaviour which children are likely to copy. No glamorisation of realistic or easily accessible weapons such as knives. No endorsement of anti-social behaviour.
Discrimination
Discriminatory language or behaviour must not be endorsed by the work as a whole. Aggressive discriminatory language or behaviour is unlikely to be acceptable unless clearly condemned.
Drugs
Misuse of drugs must be infrequent and should not be glamorised or give detailed instruction.
Language
There may be moderate bad language. Strong language may be permitted, depending on the manner in which it is used, who is using the language, its frequency within the work as a whole and any special contextual justification.
Nudity
There may be nudity, but in a sexual context it must be brief and discreet.
Sex
Sexual activity may be briefly and discreetly portrayed. Moderate sex references are permitted, but frequent crude references are unlikely to be acceptable.
Threat and horror
There may be moderate physical and psychological threat and horror sequences. Although some scenes may be disturbing, the overall tone should not be. Horror sequences should not be frequent or sustained.
Violence
There may be moderate violence but it should not dwell on detail. There should be no emphasis on injuries or blood, but occasional gory moments may be permitted if justified by the context.
Statistics
[
]
According to the BBFC's 2020 annual report, 209 films for cinema release in 2020 were classified 12A, including 9 films that were cut for the 12A category.
Relation to the IFCO
[
]
The Irish Film Classification Office also issues 12 certificates for video releases. But they issue 12A in cinemas, just like in the United Kingdom.
British Board of Film Classification

(BBFC)






Formerly used certificates: A | H | X | AA | Uc | PG-12
History of certificates | Video Recordings Act 1984 | Rejected works | Cut works | Discrepancies