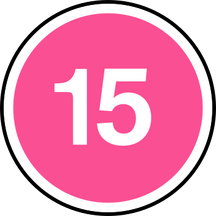 15 certificate is a rating given by the BBFC that determines that a particular form of media is suitable only for older teens aged 15 or over. Nobody younger than 15 can buy a 15-rated video, or see a 15-rated film in a cinema. It replaced the AA certificate in 1982.
Strong violence and threat are permitted at this rating; however, graphic depictions of sexual violence or sadism/torture is not allowed. Threat that is sexual or sadistic is also unlikely to be permitted at this category.
While all non-sexual nudity is permitted, sexualised nudity must be without strong detail such as erections. Strong sexual references and scenes of sexual activity are permitted as long as they do not contain very strong detail or the work's primary focus is to arouse.
Media rated 15 may contain scenes of drug use and drug use/imitable behavior if not glorified.
Strong language (ex: 'f**k') is allowed. Very strong language (ex: 'c**t') must be relatively infrequent and justified by context. The uses should not be repeated or aggressive, however.
The Irish Film Classification Office also issues 15 certificates, but only for video releases. IFCO instead issues 15A certificates for cinema releases.
Examples:
Sausage Party (Very Strong Language and Strong Sexual References)
South Park: Bigger Longer and Uncut (Frequent Coarse Language and Crude Sexual References)
British Board of Film Classification

(BBFC)





Community content is available under
CC-BY-SA
unless otherwise noted.