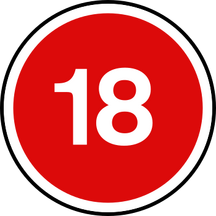 The 18 certificate
is a rating given by the BBFC that determines that a particular form of media is suitable only for people aged 18 or over. Nobody younger than 18 can buy a 18-rated video or see a 18-rated film in a cinema. This rating is the successor to the
X certificate
, and was enacted in 1982.
The Irish Film Classification Office also issues these certificates.
Sex education at 18: If the sexual material can be made to educate, the explicit images of sexual material may be permitted at this category.
Sex works: A sex work is a work whose primary purpose is sexual arousal or stimulation. Some sex works can contain simulated sexual activity and that can be placed at '18'. Works containing clear images of real sex or strong fetish material will be confined at the R18 category. Notes: a sex work that cannot be accepted at R18 also cannot be accepted at 18. Some works with images of strong real sex passed at this adult category, given that the works passed at 18 are not "sex works".
British Board of Film Classification

(BBFC)





Community content is available under
CC-BY-SA
unless otherwise noted.