In India, the Central Board of Film Certification is responsible for regulating television programs and movies. Its guidelines for television programs and movies are as below: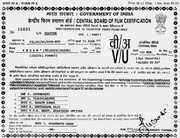 U: Unrestricted public exhibition, suitable for all groups. Such films can be aired round the clock. Any nudity/drug innuendo is cut. Such films may contain mild profanity or crude humor, mild sexual content, educational or family-oriented themes, and/or mild violence.
UA: Unrestricted public exhibition but with cation to give parental guidance for under 12. Such films may contain moderate coarse language or suggestive dialogue, references and use of soft drugs, people wearing minimal clothing (frontal or rear nudity is not permitted), moderate sexual content, mature themes, and/or moderate violence (including brief or implied sexual violence).
A: Only adults are allowed to view these programs. They're not to be aired before 11 pm. Such films will include stronger manner content, such as stronger violence, language, sex, mature themes, and nudity.
S: Only to a specific amount of audiences. This is very rare.
Community content is available under
CC-BY-SA
unless otherwise noted.