In India, the Central Board of Film Certification is responsible for regulating the television programmes. Its guidelines for the television programmes are as below: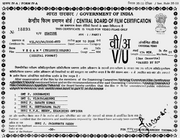 Family shows, cartoon and soap-opera programmes are not regularly censored but are kept under a regulator which checks the content of the shows. Any nudity, offensive language and/or sexual material is always cut.
Reality shows that contain mature content are allowed to air after 11:00 p.m. only.
Films that are shown on television show the censor certificate before the film begins. The films are often censored and modified for video exhibition on the basis of the ratings below:
U – Universal – Unrestricted Public Exhibition throughout India, suitable for all groups Films under this category should not upset children over 4. Such films can be aired round the clock. This rating is similar to the MPAA's G, the BBFC's U, the CHVRS G, the FSK's 0, and the OFLC's G rating. Any nudity/drug innuendo is cut. Such films may contain mild profanity or crude humor, mild sexual content, educational or family-oriented themes and/or mild violence.
UA – Parental Guidance – Unrestricted public exhibition but with parental guidance for preteenagers. Those aged under 12 years are only admitted if accompanied by an adult. This rating is similar to the MPAA's PG and PG-13, the BBFC's PG and 12A, the CHVRS PG and 14A, the FSK's 6 and 12, and the OFLC's PG and M ratings. Such films may contain moderate coarse language or suggestive dialogue, references and use of soft drugs, people wearing minimal clothing (frontal or rear nudity is not permitted), moderate sexual content, mature themes and/or moderate violence (including brief or implied sexual violence).
Telecast of an adult-rated programme on television is banned in India.