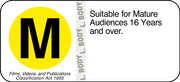 New Zealand's M rating is an OFLC-mandated classification used in New Zealand to state that a movie is suitable for persons aged 16 and over, but anyone is still allowed entry without an adult. This rating was authorised by the Films, Videos, and Publications Classification Act of 1993. People of any age may also purchase an M title.
Along with G and PG, it is one of the ratings that can be assigned by the Film & Video Labelling Body.
Examples of M titles
Avatar (Battle Violence)
Nothing But The Truth (Violence, offensive language & sex scenes)
Rudderless (Offensive language)
The Sixth Sense (Medium level violence)
Trivia
Unlike Australia's classification system, the use of the word "c**t" does not usually result in a restricted rating. Instead, they could be accommodated within the M rating if not frequent or aggressive. This has occurred several times. For example, Margin Call, which contained one use of "c**t", is rated M in New Zealand, but MA 15+ in Australia.
Community content is available under
CC-BY-SA
unless otherwise noted.