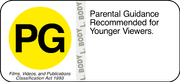 New Zealand's PG rating is assessed by the OFLC in New Zealand and is analogous to the PG ratings in America and in Australia. People of any age can view this picture and videos with a PG label may be bought by anyone. Parental guidance may be recommended for younger children. This rating was authorized by the Films, Videos, and Publications Classification Act of 1993.
Examples of PG titles
Edit
Back to the Future ("Coarse language")
Independence Day ("Violence & coarse language")
Galaxy Quest ("Coarse language")
Community content is available under
CC-BY-SA
unless otherwise noted.