General viewing, but some scenes may be unsuitable for young children. A PG film should not unsettle a child aged around eight or older. Unaccompanied children of any age may watch, but parents are advised to consider whether the content may upset younger, or more sensitive, children.
–BBFC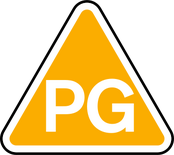 PG (full name: Parental Guidance) is a classification given by the BBFC that determines that a particular form of media is suitable for general viewing, but some content may not be suitable for young children. According to the BBFC, a PG-rated work should not unsettle children aged 8 years old and older.
The PG certificate was introduced in 1982 to replace the A certificate.
Films rated PG may contain limited amounts of violence, or some mild sex references, or possibly non-sexual nudity. There may also be mild language at this level.
According to the BBFC's 2019 annual report, 163 films for cinema release in 2019 were classified PG.
British Board of Film Classification

(BBFC)






Formerly used certificates: A | H | X | AA | Uc | PG-12
History of certificates | Video Recordings Act 1984 | Rejected works | Cut works
Community content is available under
CC-BY-SA
unless otherwise noted.