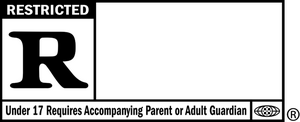 A R-rated - Under 17 Requires Accompanying Parent or Adult Guardian.
Cinemas in the United States have the ability to ban anyone from being admitted in R-rated films without showing proof of their age.
Tennessee state law set the minimum age to view an R-rated film (including NC-17) in theaters without adult accompaniment at 18. It was enacted in 1989 and it is the only state in the US where the minimum viewing age is higher.
Partial list for major production companies
THINKFilm Movies
The Dangerous Lives of Altar Bogs (2002)
Trimark Pictures Movies
Braindead (1993, heavily cut) Starring Timothy Balme
Going Overboard (1989)
Bully (2001) (TV-14 edition)
Empire Pictures Movies
Ghoulies III: Ghoulies Go to College (1991)
Ghoulies IV (1994)
American Independent Productions Movies
Evil Toons (1992) Age 18 and up
New Line Cinema Movies
Friday (1995)
Friday After Next (2002)
The Hobbit: The Battle of the Five Armies (Director's Cut, 2014)
It (2017) (Rated TV-14)
Next Friday (2000)
The Lawnmower Man (1992)
Twin Peaks: Fire Walk with Me (1992)
Lionsgate Movies
American Ultra (2015)
Absolutely Anything (2015)
American Psycho (2000)
American Psycho 2 (2002)
The Cooties (2015)
Dredd (2012)
Hell or High Water (2016)
The Hitman's Bodyguard (2017)
Kick-Ass (2010)
Monster's Ball (2001)
Man-Thing (2005)
The Punisher (2004)
State Property (2002)
State Property 2 (2005)
Saw (2004)
Saw II (2005)
Saw III (2006)
Saw IV (2007)
Saw V (2008)
Saw VI (2009)
Saw: The Final Chapter (2010)
The Void (2001)
The Wash (2001)
Lionsgate Home Entertainment Movies
Fox Searchlight Pictures Movies
Walking Life (2001) (Rated TV-14)
Wilson (2017)
IFC Films Movies
Spiderwood Studios Movies
Bad Kids Go to Hell (2012)
Momentum Pictures Movies
Bad Kids of Crestview Academy (2017)
ANAGRAM Movies
Fine Line Pictures Movies
Hedwig and the Angry Inch (2001)
To Want to Fly (1991)
American International Pictures Movies
Bryanston Distributing Company Movies
Apparition Movies
Bakshi Pictures Movies
Screen Media Films Movies
The Private Lives of Pippa Lee (2009)
New World Pictures Movies
Creepshow 2 (1987)
The Punisher (1991)
Artisan Entertainment Movies
Ghost Dog: The Way of the Samurai (1999)
Van Wilder (2002)
Marvel Studios Movies
Punisher: War Zone (2008)
Huayi Brothers Pictures Movies
A Bad Moms Christmas (2017)
Bad Moms (2016)
Touchstone Pictures Movies
Apocalypto (2006)
An Innocent Man (1989)
A Thousand Acres (1997)
The Color of Money (1986)
Cocktail (1988)
Con Air (1997)
D.O.A. (1988)
Down and Out In Beverly Hills (1986)
Deuce Bigalow: Male Gigolo (1999)
Disorganized Crime (1989)
Enemy of the State (1998)
Ed Wood (1994)
Good Morning, Vietnam (1987)
He Got Game (1998)
The Life Aquatic with Steve Zissou (2004)
Last Dance (1996)
Pretty Woman (1990) (Rated TV-14 DLS)
Outrageous Fortune (1987)
Ransom (1996)
Rushmore (1998)
Ruthless People (1986)
Romy and Michele's High School Reunion (1997)
Starship Troopers (1997)
Scenes from a Mall (1991)
Stakeout (1987)
Shoot to Kill (1988)
Tombstone (1993)
25th Hour (2003)
The War at Home (1996)
Relativity Media Movies
First Look Pictures Movies
Aqua Teen Hunger Force Colon Movie Film for Theaters (2007)
Immortal (2004)
Vision P.D.G. Movies
The Gate II: Trespassers (1990)
Capcom Movies
Resident Evil: Degeneration (2008)
Roadside Attractions Movies
Summit Entertainment Movies
Bound (1996)
John Wick (2014)
Sex Drive (2008)
Untied Artists Movies
Bowling for Columbine (2002)
Hot Tub Time Machine (2010)
Tank Girl (1995)
Open Road Films Movies
Fifty Shades of Black (2016)
Hit and Run (2012)
Columbia Pictures Movies
Leon: The Professional (1994)
The Brothers Grimsby (2016)
Sausage Party (2016) (TV-MA-LSV)
TriStar Pictures Movies
Sunset Park (1996)
Terminator 2: Judgement Day (1991)
Sony Pictures Classics Movies
The Diary of a Teenage Girl (2015)
Xenon Pictures Movies
Prokino Filmverleih Movies
BBC Films Movies
Absolutely Fabulous: The Movie (2016)
New Line Cinema Movies
A History of Violence (2005)
Blade (1998)
Blade 2 (2002)
Blade: Trinity (2004)
Final Destination (2000)
Final Destination 2 (2003)
Final Destination 3 (2006)
The Final Destination (2009)
Little Nicky (2000)
Snake In The Plane (2006)
Spawn (Director's cut, 1997)
Orion Pictures Movies
Robocop (1987)
Robocop 2 (1990)
Metro-Goldwyn Mayer Movies
Fame (1980)
Hannibal (2001) 
Jeepers Creepers (2001)
Jeepers Creepers 2 (2003)
Pink Floyd: The Wall (1982)
Supernova (Director's cut, 2000)
3 Strikes (2000)
ShadowMachine Movies
Screen Gems Movies
GoodFellas (1990) (Rated TV-14-LV)
Resident Evil (2002)
Underworld (2003)
Oscilloscope Movies
Universal Music Group Movies
DreamWorks Pictures Movies
The Fifth Estate (2013)
Road to Perdition (2002)
20th Century Studios Movies
Middle Age Crazy (1980)
Speed (1994)
True Lies (1994)
Mirrors (2008)
Hollywood Pictures Movies
Blood In Blood Out (1993) [Rated TV-14-V]
Broad Green Pictures Movies
Living Out Loud Films Movies
Thunder Road Entertainment
John Wick Chapter 2 (2017)
Bold Films
G.K. Films
Blumhouse Productions
Gallery
Community content is available under
CC-BY-SA
unless otherwise noted.