Rating System Wiki
Familiar with MPA ratings and the ESRB's labels for video games? How about the BBFC and the PEGI rating systems for those in the UK?

Welcome to the Rating System Wiki, where you find information about content rating systems of different types of media around the world. The wiki was created on March 19, 2013 by CalzoneManiac.
Our featured article of the month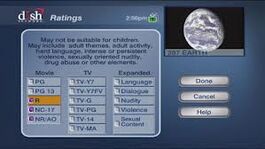 Parental controls are a strict set of locks that parents impose to control the shows their children watch. Full article...
Random fact
Sega of America once maintained a video game rating authority for Genesis video games, the Videogame Rating Council.



Blogs
Here's my fanmade rating systems.
-Video games-
GP: General playing. Suitable for all, but may be scary to children younger than 6. Equivalent to G (ACB) and E (ESRB).
PG10: Parents cautioned. Parental guidance is recommended for kids younger than 10. …

Wrrasba
•
Recently, Fandom has updated this wiki to MediaWiki 1.37.2, which allows us to enjoy new features and better security compared to MediaWiki 1.33. Fandom wikis still have to be rolled out by wiki rather than each wiki getting the new MediaWiki versio…
See more >