Rating System Wiki
Familiar with MPA ratings and the ESRB's labels for video games? How about the BBFC and the PEGI rating systems for those in the UK?

Welcome to the Rating System Wiki, where you find information about content rating systems of different types of media around the world. The wiki was created on March 19, 2013 by CalzoneManiac.
Our featured article of the month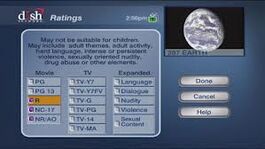 Parental controls are a strict set of locks that parents impose to control the shows their children watch. Full article...
Random fact
Mainland China does not have an age rating system for films. There, films may be marked as suitable for all ages or banned.
Blogs

Wrrasba
•
The Swiss cinema rating systems were added. There is one for the 25 cantons (all except Ticino) and another specifically for Ticino. We seemed to have missed them when the wiki existed (it was believed that it used the FSK system).
The Ticinese cinem…
See more >