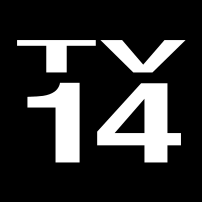 Programming rated TV-14 in the United States TV Parental Guidelines signifies content with parents strongly cautioned. It is equivalent to the MPAA film rating PG-13. Content may be unsuitable for minors younger than 14 years of age. This rating contains violence, sexual references (including censored and/or partial nudity, medium to high-level implied scenes of sexual intercourse, and sexual innuendo) and strong language.
Unlike the TV-PG rating, many shows during prime time (on most networks) carry this rating. Most shows on Fox and many anime series receive this rating. However it is censored on the TV Broadcast with bleeps and/or pixelization, depending on the show.
List
As of August 19, 2021, there are over 129,000 TV-14 titles according to IMDb (The most common TV rating in the United States). (list)
Content Description
D: Intensely Suggestive Dialogue
L: Strong Coarse Language
S: Intense Sexual Content
V: Intense Violence
Ratings
Trivia
There are several companies or TV stations not subject to the FCC's rules that have broken the general implied rule that "crude indecent" language (ex. multiple F-bombs) is not allowed at a TV-14 rating. For example, two titles (Gintama: The Movie and the complete collection of the anime Another) released by Sentai Filmworks have multiple F-bombs. The movie We Are Legion: The Story of the Hacktivists is broadcast uncensored on Pivot TV with a TV-14 rating despite its strong language. The El Rey Network originally issued an uncensored broadcast of the movie Pulp Fiction with a TV-14/R rating, but later apologized for this and changed the rating in future broadcasts to TV-MA/R.
In general, the F-bomb is rarer with the TV-14 rating than with the PG-13 rating. Apart from the above examples, Starz On Demand's print of the English dub of Black Magic M-66 contains a single F-bomb and was rated TV-14.
Although TV-14 is technically for ages 14 and up, Netflix's notice implies 15 instead, as it states "Parents Strongly Cautioned. May not be suitable for ages 14 and under."
TV Parental Guidelines rating system