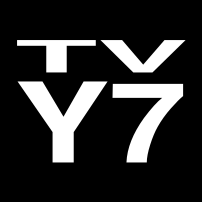 Programming rated TV-Y7 in the United States TV Parental Guidelines signifies content is suitable for children 7 or older. Many of these programs contain some fantasy violence. Most shows on Disney XD, NickToons, Universal Kids, and Cartoon Network have received this rating. Notable shows that got this rating are SpongeBob SquarePants, The Loud House, Foster's Home for Imaginary Friends, Big City Greens, and the 2017 reboot of DuckTales.
This rating is above TV-Y and below TV-G.
List
[
]
As of December 7, 2020, there are over 19,000 TV-Y7 titles, 5,000 of which are TV-Y7-FV, according to IMDb.
Content descriptors
[
]

FV: Fantasy violence (The only one used, and only used for this rating.) This is used to indicate that a TV-Y7-rated program contains behavior that, while violent and often combative, is fictional and can be shown to children who understand the difference between fantasy and reality. TV-Y7 shows with FV descriptors include Pokémon: The Series
TV Parental Guidelines rating system