The TV Parental Guidelines system for the United States is a voluntary-participation system for TV programs, with ratings to be determined by the individual participating broadcast and cable networks. It was first proposed on December 19, 1996 by the United States Congress, the television industry, and the Federal Communications Commission (FCC), and went into effect on January 1, 1997, on most major U.S. broadcast and cable networks in response to public concerns of increasingly explicit sexual content, graphic violence and strong profanity in television programs.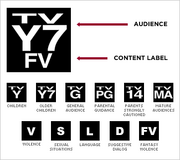 Ratings
Content descriptors
The content descriptors commonly seen with the main ratings are as follows:
FV: Fantasy violence (only used with the TV-Y7 rating for action-oriented children's shows).
D: Used with the TV-PG and TV-14 rating to denote the use of sexually suggestive dialogue (usually sexual references). It is not intended to be used in TV-MA shows (but some networks opt them).
L: Used with the TV-PG, TV-14, and TV-MA rating to denote instances of crude, offensive language (profanity, vulgar slang, racial and ethnic slurs, etc.).
S: Used with the TV-PG, TV-14, and TV-MA rating to denote instances of sexual content (including visual innuendo and intercourse).
V: Used with the TV-PG, TV-14, and TV-MA rating to denote instances of violence.
E/I
E/I which stands for "educational and informational" refers to a type of children's television programming broadcast in the United States that incorporates educational content in some form. It is used for the TV-Y, TV-Y7, and TV-G classifications. This can only be broadcast from 6:00 am to 10:00 pm. Additionally, it can only be aired on free-to-air TV, not paid TV. According to the Children's Television Act of 1990, there are limits in advertising time during children's television programming. It should not exceed 10.5 minutes per hour on weekends and 12 minutes per hour on weekdays.
Notes
Some streaming services, such as Disney+, do not allow TV shows that are rated TV-MA and Movies that are rated R.
Gallery
For the gallery, see TV Parental Guidelines/Gallery.
TV Parental Guidelines rating system